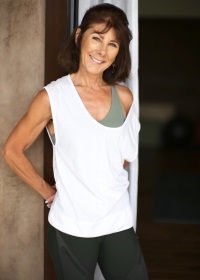 Holly Julier, Owner
Holly is passionate about sharing the lifelong benefits of fitness training.
She is an accomplished Pilates Teacher, certified with Body Arts and Science International on all apparatus and mat work.   She studied Personal Training at the National Academy of Sports Medicine and American Council on Exercise.  She has extensive training in Functional strength, Postural correction/Scoliosis and certified in Pre/Post Natal, Post Rehab, Injury prevention and Special Populations. With over 15 years of teaching from beginner to advanced levels she inspires people of all ages improve their own personal levels of health, wellness body and mind.
Holly was always active in sports and enjoyed the benefits of working out after stressful hours in the corporate arena.   She researched the fitness industry and decided to make a career change that would accommodate a flexible schedule and have time to raise her two sons. Her research led her to Pilates with a combination of Personal Training!  Holly was also attracted to this industry to become knowledgeable of additional benefits of exercise for family members with Osteoporosis.  She has helped many clients improve their overall body strength, posture, core strength, flexibility, confidence and balance!  Holly opened her Pilates studio in 2012 and purchased Synrg Fitness January 2018. 
 "My Pilates sessions are unique in that I listen and learn from your body. Our bodies were meant to move and I tailor each session to what you need as an individual that offers more than a typical workout."
Holly is dedicated to finding out what her clients enjoy in order to design a more creative, versatile, and above all, effective session that sustains conscious body movement!  She has been teaching since 2003 and is passionate about sharing the lifelong benefits of Pilates and Fitness!
Holly is amazing! I have been going to her for over 4 years now and she has really helped my posture and to strengthen my core. She really listens to her clients and targets exercises to their problem areas. I also had a baby in these past 4 years and believe that continuing Pilates through most of my pregnancy helped both with feeling great throughout my pregnancy and getting back into shape quickly after the birth.
- Vicky Chia
When I first started my sessions with Holly, Pilates was recommended for back problems I was having and to strengthen my core. Needless to say, Pilates has changed me physically for the better. With Holly's guidance, I feel stronger and more flexible. Pilates has allowed me to continue working in a profession that is brutal on the back. She has transformed me!
- Pam Caligiuri
I've been a client of Holly's for over 10 years both before and after my hip surgery and Holly has been amazing in bringing out the best of my physical abilities. As a current client of Holly's, I am proud to recommend her for fitness/rehabilitation training with Pilates.
I recommend Holly's expertise to the fullest!
Joe Ponce Chief Creative Officer~Ponce Intl.
- Westlake Village
To me, what makes my experience so rewarding doing Pilates is the people in our Pilates class. This is not just a gym that you go to work out at. It is a place where our instructor, Holly, is excellent, personable, and takes a genuine interest in your well being. It is a place of camaraderie and fun and I could not recommend lessons from Holly any higher then I do. Once you start you will become addicted, there are not many workouts that have that effect on you, and the results will speak for themselves.
- From E. Garnett
SYNRG Fitness is a great find! Located at The Landing in Westlake it's in a beautiful location to start. The facility boasts a light, airy gym area with separate Pilates space. It's very clean and private. Holly, the owner, is a fabulous Pilates and Fitness trainer - very caring, motivating, and knowledgable. Whether you're an absolute beginner (like I was) or a seasoned Pilates practitioner, you'll be in excellent hands!
- Sharon OpdeCoul
Over the years I have taken Pilates from several different instructors and Holly outshines them all. She has deep knowledge of Pilates and makes it fun at the same time!
Kelly W
Kelly has a passion for helping clients reach their fullest potential in health and fitness.  As both a Certified Personal Trainer, as well as a Registered Yoga Teacher, she has a unique approach to training that includes functional fitness, strength, stability, and individualized high intensity interval training.  She has a strength for discovering her clients' personal limits and guiding them there in each workout.
Her functional, whole-body approach to training enables her to efficiently work with clients with injuries or setbacks.  She has trained through various injuries of her own, and helped many clients stay fit through injury, or reach strength and fitness goals after an injury. In addition, as a mom of three young girls herself, she understands the challenges of weight loss after pregnancy.  She has helped many women regain strong bodies and shed post pregnancy weight.  Through personal training as well as lifestyle coaching, she is dedicated to helping clients find success in their fitness goals.   Her warm, welcoming demeanor makes clients feel comfortable and cared for.
Kelly greets you with a smile that lights up the room, asks how your weekend was and then gets down to business. She's a compact ball of energy and efficiency who knows how to get the best out of each of her clients. I wouldn't say she was compulsive, but Kelly writes down every exercise you do to better prepare her for the next session. She is encouraging and keeps you engaged during your workout. Kelly is very precise with form and will move you an inch or two just to make sure you get the most out of your efforts. It is a delight just to spend the hour with her making myself stronger and more flexible.
- Carol Frimmer
I love the strong, lean body I've gotten since working with Kelly. For the first time I have definition in my abs. She is professional, friendly, and very good at discovering your limit and pushing you to it in your workouts with her. Even through injury, Kelly has helped me get fitter and stronger than I would ever have been able to do on my own.
- Heather Savant
Lisa Kolakowski
Pilates is my passion! I started taking Pilates in 2006 to alleviate low back pain and quickly realized the multitude of benefits that Pilates offers – a stronger core, better muscular balance and control, increased flexibility and in my case, a greatly improved tennis game! I was hooked and in 2014 decided to embark upon a new career to teach Pilates. I received my comprehensive training through Yoga Works Pilates Teacher Training Program and I am PMA (Pilates Method Alliance) Certified.  I am passionate about sharing my love and knowledge of Pilates with my clients and strive to customize a program for each one based on individual fitness goals, physical limitations and/or sports specific needs.  With greater body awareness,  joint stability, flexibility and strength, you will feel better, look better and do everything else better!
"Change happens through movement and movement heals" – Joseph Pilates
I feel incredibly fortunate to have a fabulous Pilates instructor whom I also call my friend. Lisa Kolakowski is a dedicated, meticulous Pilates teacher who has taught me the most important lesson: have fun when you work out! I LOVE Pilates because Lisa makes it fun; she follows the classical Pilates system and listens to me chatter, all while making sure I'm doing the right movements. My flexibility has improved, and I always feel good when I'm leaving the Pilates studio.....I look forward to every session with Lisa!
- Andrea Neftin
I have been doing Pilates with Lisa for several years and I love her classes due in large part to the core strength principles and associated balance and awareness that I gain from Pilates .
- Sonnet Cohen
Rhonda
Rhonda Clure of Simply Perfect- Beauty- Heath and Fitness can help you unleash confidence and unleash your potential…..body, mind and spirit! Her goal is to provide her clients with solutions for their overall well-being. With over 15 year of experience, Rhonda works with several companies that formulate skin care, personal care and home care products with natural and organic ingredients, Including Doterra and Touchstone Essentials. What goes on your body goes in your body and can have profound effect on your overall health.
Rhonda is also a Reiki Master. helping her client find peace and balance through energy healing and meditation. She personalizes each session using infrared heat, and crystals in a quiet, relaxing setting. Rhonda is a passionate Pole Fitness and Chair Dance Instructor. Her goal is to empower women to feel comfortable in their own bodies through this fun and exciting form of exercise. She uses music and movement to help her clients connect to their own inner power.
Pole Classes -
Whether you are just curious to try a Pole Class or you're an advanced Poler looking to acquire specific dance skills and technique, Rhonda's pole classes are phenomenal.  She has a unique style that makes you feel comfortable whether it's your first time or you're an advanced student.  In my experience I've noticed that she personalizes each class whenever possible based on what you are working on and what you are interested in learning.  She is always very warm and welcoming of new students and loves to take on the challenge of advanced students.  She teaches the elements of technique and choreography combined with breath work and the emotion of the dance.  BTW -- THIS IS BY FAR THE FUNNEST WAY TO WORK OUT!!  You don't even know you're working out because there is so much laughter, camaraderie and collaboration.  You've just got to try it!
~J. Hansen
Chair Workshops -
If you are even thinking about it ... you've got to try this!!  OMG!  Rhonda has a sweet but sassy attitude that shines through to her chair routines.  They are loads of fun!! I'm addicted!  The workshops are easy for beginners to keep up with yet she has no problem leveling it up for advanced dancers with chair acrobatic tricks that are simply fabulous!  I am so inspired!!  I just want to go every day!!!
~L. Williams